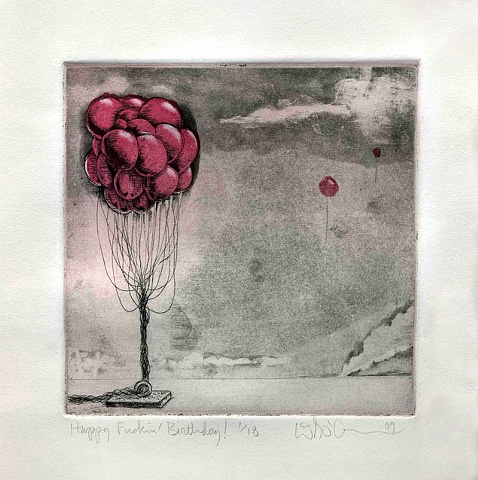 Rebellious Integration Participant:
Duffy O'Connor
"Happy Fuckin' Birthday!"
2 Plate Etching with hand-painting and drawing
8x8"
2009
[I decided to include Duffy's explanation for not having an artist statement, because it is just as interesting…]
"I really can't think of anything to write about the meaning of the print that would not interfere with the viewer's ability to interpret what it may or could mean.
Maybe I should write something cryptic that sounds like a translation one would find on engrish.com.....
Balloons are happy, Smoke means fire!
But that could get weird and would just confuse people.
Can we leave it with no didactic? I'd rather not apply analysis to it and ruin it."


www.duffyoconnor.com