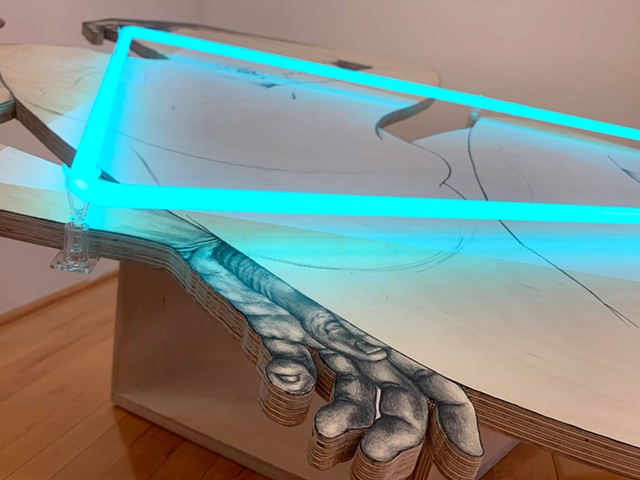 Hailing from Idaho, Megan Sterling has been established in Chicago since 2005, coming here to pursue her Master of Fine arts in Studio Arts from the School of the Art Institute of Chicago after receiving her BFA in printmaking from Boise State University. She has taught full time at Harrington College of Design, worked more independently as an artist and teacher, managed the Printmaking Facilities at Columbia College Chicago and now teaches there. She exhibits her prints and large scale drawings regularly in Chicago and across the country including New York, Cleveland, Boise, Portland, and St. Louis.
CLICK to watch a spotlight video by Filter and Funnel about the artist.


Weaving in and out of printmaking, drawing, collage and installation, my work traces back to notions of fragmentation, narrative and place, which for me are things that often go hand-in-hand. I use these as a platform to explore and push my image-making in alternate ways, interlacing both representational imagery and levels of abstraction. I pull from a lexicon of imagery I have been developing from earlier bodies of work juxtaposed in subtly suggestive yet ambiguous ways, tracking loss, displacement and reconciliation. Conjuring a thread of both curiosity and anxiety, they create an agency to meditate on experiences of pain and beauty, both personal and in the world around me.